U.S. Navy BBQ Grill Cover-U.S. Military Grill Cover
U.S. Navy BBQ Grill Cover-U.S. Military Grill Cover
Show your support for the United States Navy with our made in the U.S.A. Outdoor BBQ Grill Cover.  Proudly displayed is the U.S. Navy Logo on Commercial Marine Grade Vinyl.
The United States formed this division of the military on October 13, 1775 during the Revolutionary War and is known for its Power Projections, Crisis Response and Direct Action capabilities.  Headquartered at the Pentagon this division has aircraft and ships at its disposal.   The Navy employee's over 326,000 active personnel and over 107,000 reserve personnel.  The Navy also has 3,700 aircraft and 430 ships ranging in many classes.  The list doesn't stop there as it also has numerous types of weapons systems used on its destroyers to Ballistic missile submarines of the Ohio Class. 
The most recognized Navy vessel is the USS Ronald Reagan built by Northrop Grumman Newport.  The CVN-76 boasts a budget of $4.5 billion and is a Nimitz-class nuclear-powered super carrier.  This carrier can hold 90 fixed aircraft and helicopters along with 3,200 seamen.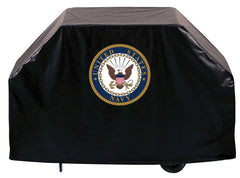 Grill Cover with US Navy Grill Cover Grill Cover Made From Commerci...
Best Sellers