U.S. POW MIA BBQ Grill Cover-U.S. Military Grill Cover
U.S. POW MIA BBQ Grill Cover-U.S. Military Grill Cover
Show your support for the U.S. POW (Prisoner of War) & MIA (Missing in Action) Veterans with our made in the U.S.A. Outdoor Grill Cover.  Proudly displayed is the logo on commercial Marine Grade Vinyl.
The National League of POW/MIA Families was established on May 28, 1970 to bring to light the numbers of Americans lost overseas that weren't accounted for.  The abbreviations symbolize that those souls will not be forgotten.  Every American should understand what the symbol means and understand the story behind the logo.  Help spread the message of the POW and MIA Americans with Heavy Duty Grill Covers.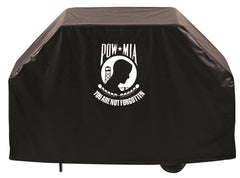 Grill Cover with POW MIA Logo Grill Cover Made From Commercial Qual...
Best Sellers