U.S. Air Force BBQ Grill Cover-U.S. Military Grill Cover
U.S. Air Force BBQ Grill Cover-U.S. Military Grill Cover
Show your support for the United States Air Force with our made in the U.S.A. Outdoor BBQ Grill Cover.  Proudly displayed is the U.S. Air Force Logo on commercial marine grade vinyl. 
The United States formally established this separate division of the military on September 18, 1947 by the authority of Congress.  Headquartered in Washington D.C. at the Pentagon the Air Force plays a role globally.   This military division employee's over 308,000 active personnel and over 71,000 reserve personnel.  The Air Force has 5,137 aircraft, 450 ICBM's and 63 satellites as part of its arsenal. 
The most recognized aircraft is the Boeing F-15 Eagle designed by McDonnell Douglas.  The F-15 boasts a record of 100 wins and 0 losses in active aerial combat.  Since its inception it has gone through several upgrades and has been of service for 47 years.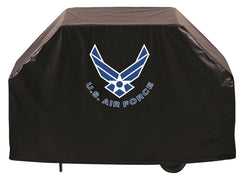 Grill Cover with Air Force Logo Grill Cover Made From Commercial Qu...
Best Sellers